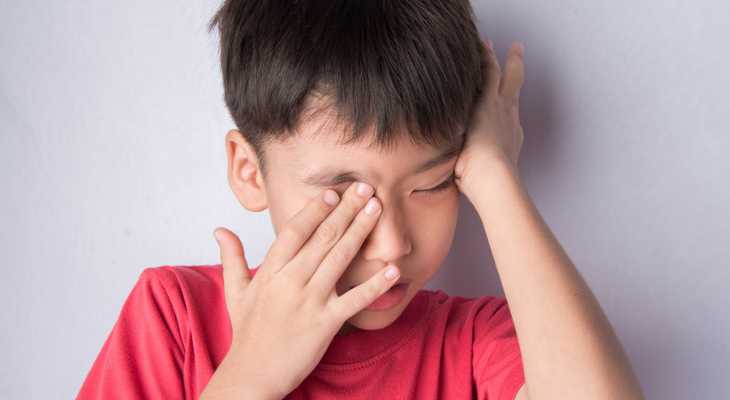 Could Pain Around Your Eye Be Caused by Periorbital Cellulitis?
Periorbital cellulitis could be to blame if you're experiencing pain and swelling around your eye. Prompt treatment will prevent the infection from spreading to your eye.
What Is Periorbital Cellulitis?
Periorbital cellulitis occurs when your eyelid or the skin around your eye becomes infected. Although anyone can develop the infection, it most often affects children 2 or younger, according to WebMD.
Periorbital cellulitis can occur due to a scratch, cut, or insect bite on your eyelid or the skin surrounding the eye. The infection may also be caused by a sinus infection or a stye. A stye is a painful red bump that forms on the eyelid when an oil gland becomes clogged.
Bacteria enter your eye through cuts or openings in the skin or travel to the skin from the sinuses, causing swelling and redness around the eye. The area may be painful, particularly if you press on the swollen skin, and you may notice that the white part of the eye looks red. Although the infection is painful, it doesn't usually cause a fever or affect your vision. Periorbital cellulitis typically only affects one eye.
Periorbital Cellulitis Increases the Risk of Developing Orbital Cellulitis
Without treatment, periorbital cellulitis can become orbital cellulitis, a serious eye infection that can threaten your vision. Orbital cellulitis is an infection of the muscles and fat in the eye socket. Pain and swelling around the eye is also a symptom of orbital cellulitis. The swelling may spread to the cheek or eyebrow in some cases.
Other symptoms include:
Pain when you move your eye
A bulging eye
Headache
Purple or red skin on the eyelid
Trouble moving the eye
Difficulty seeing
Double vision
Eye and nose discharge
People who have orbital cellulitis usually don't feel well and have fevers. It's important to call your optometrist right away or go to the emergency room if you or a family member have these symptoms. Without treatment, orbital cellulitis may cause hearing or vision loss, optic nerve damage, blood infections, or meningitis, according to Medline Plus.
Treating Periorbital Cellulitis
Your doctor may recommend a computerized tomography (CT) scan to determine if your symptoms are caused by periorbital cellulitis or orbital cellulitis. A blood test may also be needed to determine the type of bacteria causing the infection.
Antibiotics kill the bacteria that cause periorbital cellulitis symptoms and can begin to improve your symptoms in just a day or two. People who have mild symptoms and are 1 year or older can often be treated at home with oral antibiotics. Younger children and people who have more severe symptoms may need to be hospitalized.
If periorbital cellulitis turns into orbital cellulitis, you'll need to receive intravenous (IV) antibiotics in the hospital. Surgery may also be needed to drain the infected area and reduce pressure around the eye.
Preventing Periorbital and Orbital Cellulitis in Children
The Hib vaccine can reduce your child's risk of developing both periorbital and orbital cellulitis. This vaccine offers protection from the Haemophilus influenzae type B, a type of bacteria that can cause cellulitis, meningitis, and other serious infections. The vaccine is usually given to children at 2 months and again at 12 - 15 months.
Don't ignore swelling or pain in or around the eye. Contacting our office as soon as you notice these symptoms will ease your pain and help you avoid serious complications that could threaten your vision.
Sources:
Medline Plus: Orbital Cellulitis
Centers for Disease Control and Prevention: Haemophilus Influenzae Type b (Hib) VIS, 8/26/21 Type b
JAMA Network: Periorbital and Orbital Cellulitis, 1/14/20