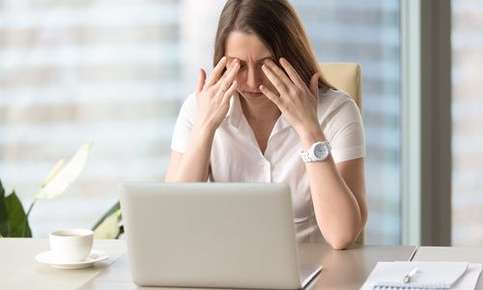 Reducing Your Chance of Getting Computer Vision Syndrome
Sore muscles aren't the only problem you may have if you spend hours looking at a computer screen, tablet or cellphone every day. Prolonged use of digital screens can also cause eye discomfort and may even affect your vision. Fortunately, making a few changes to your viewing habits can reduce your risk of developing the syndrome.
What Is Computer Vision Syndrome?
Also called Digital Eye Strain, Computer Vision Syndrome (CVS) can affect anyone who uses a digital device. Although the words you see on your screen may look perfectly clear, they're not quite as sharp as words printed on paper. As a result, your eyes may need to work a little harder than usual. Issues with contrast, glare, and optimal viewing distance can also contribute to the problem.
Fifty-nine percent of adults who use digital devices for two hours or longer experience symptoms of CVS, according to The Vision Council. The syndrome also affects children who use digital devices.
CVS can cause a variety of symptoms including:
Dry Eye
Eye Strain
Blurred Vision
Headaches
Sore Neck and Shoulder Muscles
In addition to these symptoms, irritability, reduced attention span, and poor behavior can be signs of the syndrome in children, The Vision Council notes.
How You Can Reduce Your Risk of Developing Computer Vision Syndrome
These recommendations can help you avoid CVS symptoms:
Take Regular Breaks. Step away from your digital device every two hours. Spend at least five or 10 minutes doing something that doesn't involve digital screens during your break.
Follow the 20/20/20 Rule. Look at an object 20 feet away for 20 seconds after spending 20 minutes using a digital device. Following this rule may reduce tension in your eye muscles and decrease eye strain.
Reduce Glare. Glare is a significant factor in eye strain. Reduce it by adding anti-glare filters to your screens. Consider wearing computer glasses when you use your devices. The glasses provide clear vision at the optimal viewing distance for your desktop or laptop and reduce glare.
Make Blinking a Priority. People tend to blink less when viewing digital screens. Blinking keeps your eyes moist and helps prevent dry eye and eye strain. Fortunately, you can reduce dry eye by taking a blink break every half-hour. During your break, look away from the screen and spend a few seconds blinking slowly. If your eyes are normally dry, use artificial tears throughout the day.
Use Recommended Viewing Distances. The American Optometric Association recommends placing your screen four to five inches below eye level and 20 to 28 inches from the eye.
Improve Lighting Levels. The brighter the light, the more likely you'll experience eye strain and other CVS symptoms. Close shades and draperies during the sunniest part of the day to reduce glare and eye strain. Do bright overhead lights bother your eyes? Task lighting may offer a more comfortable solution. If you can, turn off fluorescent lights and rely on floor or desk lamps instead. Don't work in front of or behind a window or light source.
Adjust Device Settings. Your eyes must work harder if your screen is brighter or darker than natural or room lighting. In addition to adjusting brightness, increasing the size of the type may also help minimize CVS symptoms.
Schedule a Comprehensive Eye Exam. CVS may have more of an impact on you if your eyeglass or contact lens prescription isn't up-to-date or you have an eye condition. During your visit, your optometrist can also make a few recommendations that may improve your comfort while you use digital screens.
Do you suffer from CVS? Your optometrist can help you ease your discomfort. Contact our office to make your appointment.
Sources:
The Vision Council: Digital Eye Strain
American Optometric Association: Computer Vision Syndrome